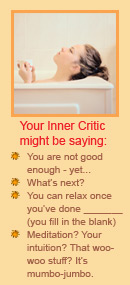 Perhaps you are tired of the constant chatter in your brain and are ready for the negative thoughts and constant whirring to cease.
Maybe you are looking for inner peace, calm, contentment or happiness. Does creating more joy, freedom and meaning in life sound good?
Coaching can help you by working with you to let go of the need to always be doing. By trying to perfect life and yourself you are not seeing the beauty of what is already there. Learn to trust yourself and access your intuition.
Food for thought: We are all 'works in progress'. So instead of focusing on what you're not, why not begin to accept your wonderful self? Remember, self-esteem is the immune system of your mind…
Access Inner Peace: Ask, "What would I do right now if I really loved myself?
KNOW Yourself, BE Yourself, LOVE Yourself
Save
Save
Save